Introduction
Natural Intelligence, what?

That's how we reacted when we initially heard this term, during our first ever correspondence with Samyak, the CEO of X Billion Skills Lab. The venture, as the name suggests, is all about enhancing the skills of the next billion people entering the workforce of the country; skills that they inherently possess; their Natural Intelligence.

Again…natural intelligence, what?
‍
Hundreds of thousands of students graduate every year with a degree in their hands. The combined efforts of placement cells, recruiter agencies and online job aggregators would land you a favourable job with a favourable commute and an equally favourable pay. 
‍
This was true a few years ago.

Educated youth today is not just losing job opportunities to their counterparts, they are being replaced by robots and automated systems. One striking example of this phenomenon is the deployment of IVR systems and WhatsApp chatbots.
Companies are reorganising their business models with automation in mind and artificial intelligence is finding more applications every day. Does this leave no opportunities for the young and educated? This is where your natural intelligence comes into the picture.
It's seldom taught in schools and is almost never given a fleeting thought while choosing careers. Natural Intelligence is what sets us apart from Artificial intelligence. It's something that AI can never match up to and right now is the best time to tap into the powers of the human mind.

"Creativity cannot be taught, it can only be nurtured."


Solution
A group of learned experts on behavioural science got together and sketched up the make of a person's natural intelligence. This kind of an intelligence is not acquired through rote learning as is prevalent in most learning institutions - these skills can be molded fit for workplaces by identifying them and being cognizant of them.
This is exactly what the creators of X Billion Skills Lab managed to pull - with our technical assistance they built a platform which could codify natural intelligence. Brilliant, ain't it?
Product Overview
Multilingual e-learning platforn
Its multilingual nature makes it possible to connect with willing young brains from various backgrounds who intend to enhance their employability and pursue a career of their choice. The modules are designed to help applicants derive solutions to problems based on a rubric instead of having to rely on memory for previous case studies or theoretical concepts. These easy-to-understand 'mental models' - as we call them, let you apply natural intelligence at the workplace by laying out a guide for you to assess situations.

Modules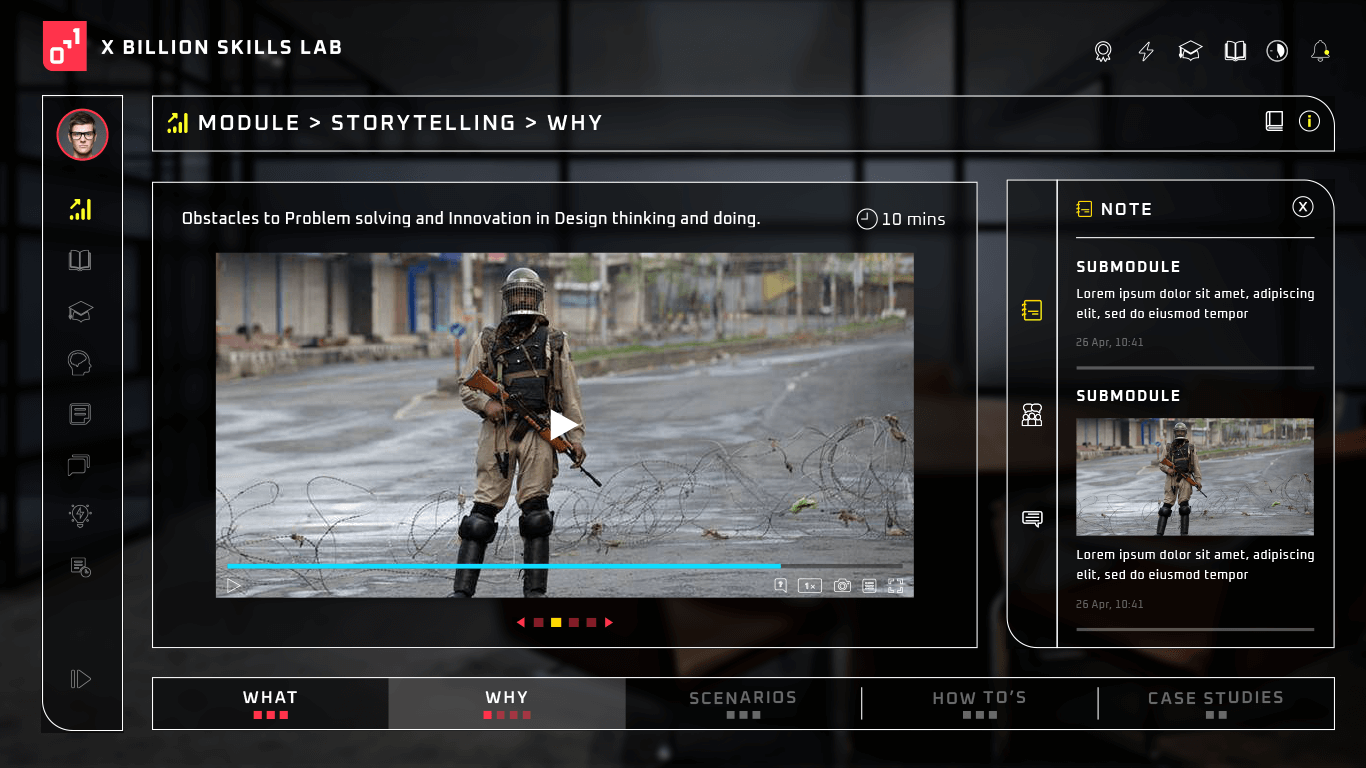 Tutorial videos in vernacular languages aided with visualised concepts, infographics, diagrams and true-to-life examples - the modules don't just educate, they make sure you grasp every concept and retain it too. While learning, you can make notes at the exact point in the tutorial where you wish to record your understanding of the topic or simply want to note down a question. If you want to save time typing out a note - simply create a voice note! Audio notes are not restricted by the keys on your keyboard so they can be recorded in any language suitable to the learner.
Suggested Readings
The courses suggest valuable reads for the candidates to visualise how their learnings are applicable to real-life situations and scenarios.
There are articles and case studies from experts in their fields to enrich your understanding of the corporate world with plenty of pointers to take home. 
Available in different formats such as PPT, PDF and video, these are curated based on current market trends and relevant global affairs.
Planner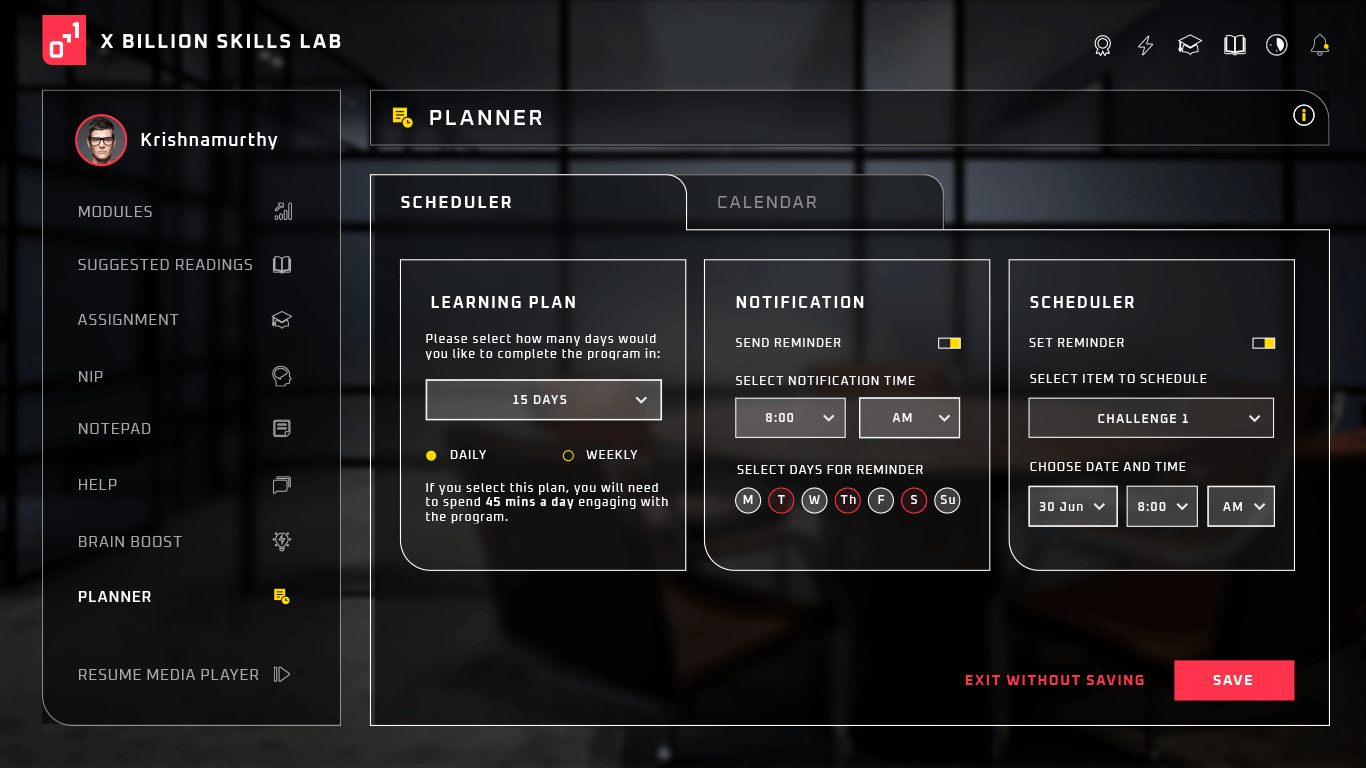 Learning should not feel like a task. That's why the flexibility of time is given to the learners in the case they may be still in the phase of completing their education or going for a 9-5 job. The in-built scheduler lets you plan your studies, assignments and courses at your pace. It does the simple job of reminding you to take up a course because it's next, or complete an assignment because it's due. 
The scheduler as a feature has many uses and one of them is to help you keep up your score. Every time you miss a test, you lose some points - which directly affects your assessment as a candidate. You can avoid this from happening. It's simple - Head to the Planner section, determine a learning plan and set yourself some notifications and reminders as reinforcing nudges for you to complete the course!

Natural Intelligence Profile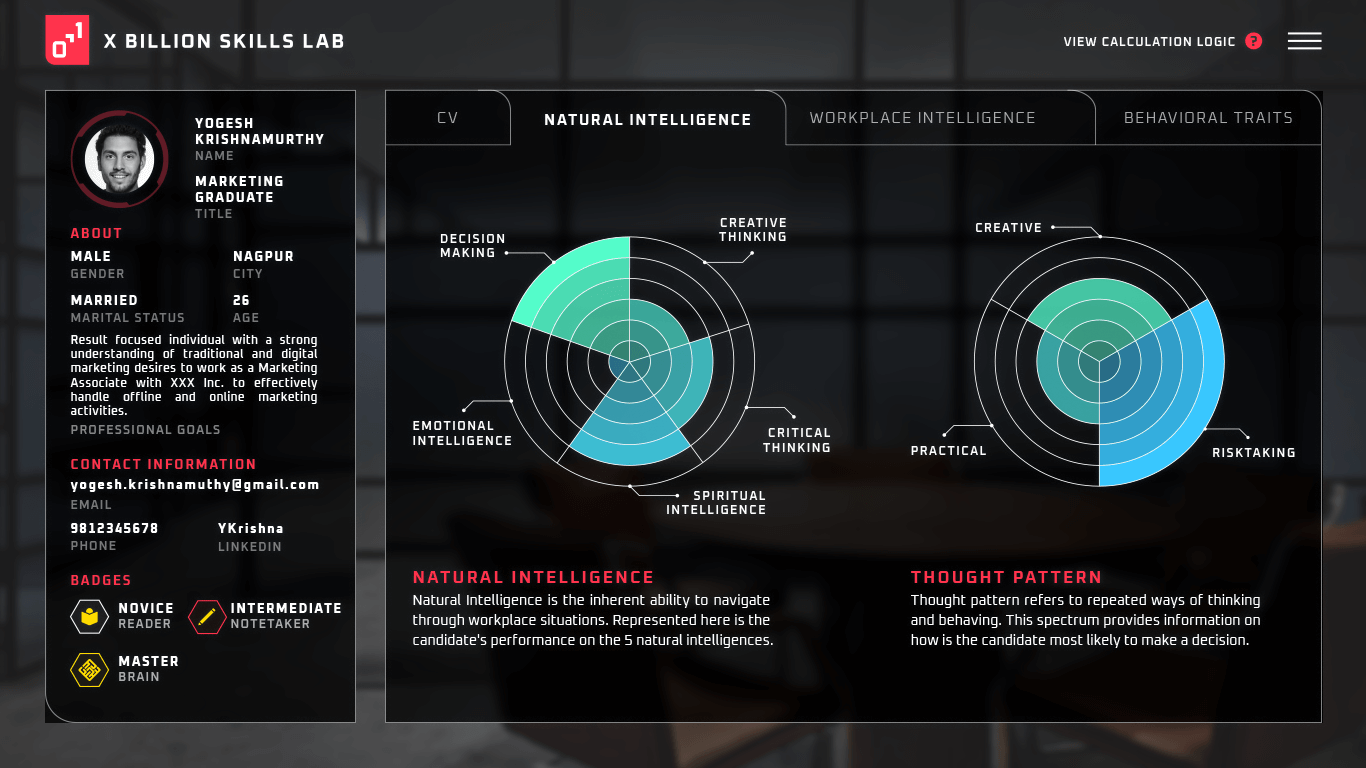 The tests that you attempt through the portal ultimately builds your Natural Intelligence Profile. While there are no wrong answers, your choices during the assessments point towards your strengths in categories such as Creative Thinking, Critical Thinking, Emotional Intelligence, Spiritual Intelligence, etc.. You can view your profile at the end of each course where Natural Intelligence is represented by 5 categories and another graph depicts your decision-making behaviour analysed by Thought Patterns.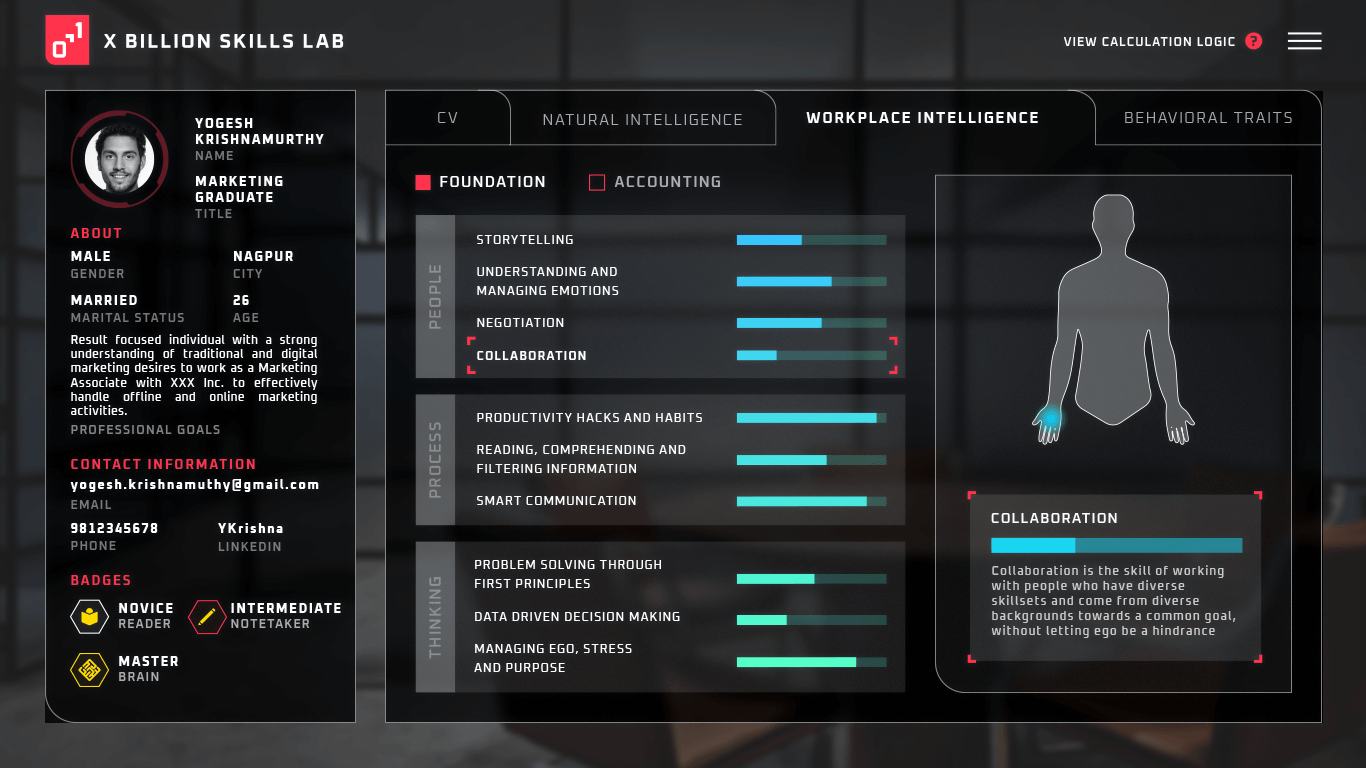 Workplace Intelligence displays your proficiency in the various skills required at a workplace through proprietary algorithms. For eg. The skill of collaboration. Great teamwork includes identifying and appreciating the different skill sets that your teammates have and working towards one common goal in perfect harmony. When you tap on one skill, the column at the right explains the grounds on which you were assessed and how well you fared in it.

Bonus Features
Brain boosters test your analytical and logical skills. Solving puzzles and math problems is more about how you approach the problem than about the correct answer. The best time to get your mind alert and focused would be right before starting the course where you left it.
‍
Additionally, the courses include simple exercises that are designed to help you retain key takeaways. These challenges can pop up in the middle of the course where you can only proceed by attempting it.
‍
Progress in the courses directly reflect on the number of badges you acquire. You receive a badge as recognition of how well you are doing. Similarly, a "streak" indicates that you have been exceptionally speedy recently! The achievements section measures the courses and assignments you have completed and Read Stats tells you which articles you have been reading with a particular tag.